INSTRUCTORS > STEPHANIE MIRACLE BIOGRAPHY


Stephanie Miracle
Certified Teacher of Klein Technique™
Santa Barbara, CA, USA / Essen, Germany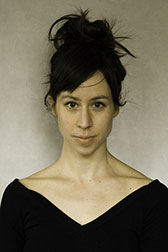 Stephanie Miracle is an American born choreographer and dance artist currently based in Germany and California, USA. She holds a MFA in Dance, 2014, from the University of Maryland, College Park, Maryland and a BA in Dance from Belhaven University, School of the Arts, Jackson, Mississippi, 2004. She began studying with Susan Klein in 2006 and became a Certified Teacher of Klein Technique™ in 2017.

In 2014/15 Stephanie was awarded a German Fulbright Fellow in the Performing Arts. Through the Fulbright she has focused her research on the embodied practice of Tanztheater. Examples of her fieldwork include intensive study in Jooss-Leeder Technique, dancing repertory from Pina Bausch with the Tanztheater Wuppertal, study of Inner Suspension with Susanne Linke, and new creation with Reinhild Hoffmann. Her research is focused on searching for the intersections between Klein Technique™ and European Tanztheater specifically in dynamic use of space and expression through the body.

As a performer she has had the privilege of dancing for Susan Marshall and Company, Liz Lerman Dance Exchange, David Dorfman Dance, Deborah Hay, and PEARSONWIDRIG DANCETHEATER. In 2015 she joined as a full-time company member with the Folkwang Tanzstudio in Essen, Germany, and she also maintains an international collaborative process with choreographers Carla Jordao (Portugal), Ana Farfan (Mexico), Paola Ponti (Italy) and Anna Shchekleina (Russia).
Stephanie Miracle: stephanie@kleintechnique.com