INSTRUCTORS > SARA MURPHY SALVITTI BIOGRAPHY


Sara Murphy Salvitti
Member of the Klein Technique™ Teacher Certification Program, New York, NY, USA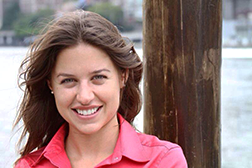 Sara Murphy Salvitti studied dance at Mason Gross School of the Arts at Rutgers University where she was honored with the Dance Express Choreographer's Prize for consistently exceptional choreography. Her work was later shown at a special Rutgers alumni dance concert at the George Street Playhouse in New Brunswick, NJ. After graduating in 2007, Sara moved to New York and joined H.T. Chen and Dancers. While pursuing a career as a dancer, Sara developed a chronic hip injury and soon after, began studying Klein Technique™ with Susan Klein. With the idea to shift towards teaching, Sara moved to London and completed a Masters in Dance Anthropology at Roehampton University where she wrote a dissertation on contemporary Brazilian social dance practices. 
Upon completing her master's degree, Sara moved back to New York and resumed her studies with Susan, eventually joining the Klein Technique™ Teacher Certification Program. Simultaneously she worked as a teaching artist and as the program coordinator for Ballroom Basix, a not-for-profit arts-in-education program for under-served public middle schoolchildren in New York City. While continuing to pursue her Klein Technique™ certification, Sara also worked as a part-time lecturer for Mason Gross Arts Online at Rutgers University where she taught Dance Appreciation. She also taught on-campus at Mason Gross School of the Arts where she taught Klein Technique™ to over one hundred dance majors.  Additionally, Sara has taught Susan's work at the former Dance New Amsterdam, the Susan Klein School of Movement and Dance, Centro Nacional de Danza Contemporanea in Queretaro, Mexico and most recently at PACE University. Sara became a Certified Klein Technique™ Teacher after completing her final project, a research paper entitled, "Considering Klein Technique™: A core stability alternative for contemporary dance education," which was later published in the Journal of Dance & Somatic Practices in 2016. Sara's writing on Klein Technique™ has also been published in Dance UK Magazine.
Sara Murphy Salvitti : sara@kleintechnique.com