INSTRUCTORS > HANNA HEGENSCHEIDT BIOGRAPHY


FACULTY
Hanna Hegenscheidt
Certified Instructor of Klein Technique™, Berlin, Germany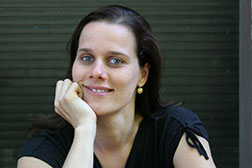 Hanna is a teacher, performer, and choreographer based in Berlin. She studied Klein Technique™ at the Susan Klein School of Movement and Dance, NY, NY and Laban-Movement-Analysis at the Laban/Bartenieff Institute for Movement Studies, NY, NY and became a Certified Movement Analyst. From 2012 - 2014 she attended the Amsterdamse Hogeschool foor de Kunsten and received a Masters in Choreography.
In 1994 Hanna joined the Klein Technique™ Teachers Certification Program and in 1998 she started teaching Klein Technique™ at the Susan Klein School of Movement and Dance in New York. She has continued to teach Klein Technique™ since then at different locations in England, Germany and Croatia. Upon moving to Berlin in 2004 she was supported to build daily Klein Technique™ classes by Studio LaborGras. In 2011 Hanna opened her own studio, Studio 142, in Kreuzberg, Berlin, where she teaches daily morning classes in Klein Technique™. She also teaches Klein Technique™ classes for Sasha Waltz & Guests and at the HZT University Program in Berlin.
As a performer, Hanna has worked with Gina Gibney Dance, Robert Wilson, Lise Brenner, Gitta Barthel, Reinhild Hoffmann, David Weber-Krebs, Achim Freyer, Martin Clausen/Two Fish among others. In 2008/09/10 she was choreographic assistant to Achim Freyer in Wagner´s Ring Cycle at the Los Angeles Opera.
As a choreographer, Hanna began to create her own work in 2004 in collaboration with dancers and actors from New York and Berlin. Her work has been presented at the Tanztage Berlin, The Tanznacht Berlin, Fabrik Potsdam, Kampnagel Hamburg, Schwankhalle Bremen, West End Theater/N.Y., Villa Warschau, Something Raw Festival, Amsterdam, Explore Festival, Bucharest and others.
In 2012 she directed her first work for children, Shock-Headed Peter, with the ensemble of the MOKS at the Goethe Theater Bremen. Since then she regularly creates pieces for children with the ensembles of the MOKS and the Deutsches Theater in Göttingen and others. In her latest project, When the Body Speaks, a commission of TanzSpielZeit at Podewil for children 6+, she collaborated with NY-based actor Chris Daftsios and her 7-year-old daughter.
She has worked as a Teaching Artist for the Lincoln Center Institute for Aesthetic Education in N.Y. and is part of the dance-in-schools-program, TanzZeit, Berlin. Hanna was invited to develop pieces with teenagers and is currently she teaching dance on a weekly basis, in collaboration with the class teacher, to 5th-graders at a school in Berlin-Wedding and works to further develop the quality assurance at TanzZeit.
For more information: www.hannahegenscheidt.de
Hanna Hegenscheidt: hanna@kleintechnique.com