INSTRUCTORS > FABIO A. TRAVARES DA SILVA BIOGRAPHY


FACULTY
Fabio A. Tavares da Silva
Certified Instructor of Klein Technique™
New York, NY, USA / Brazil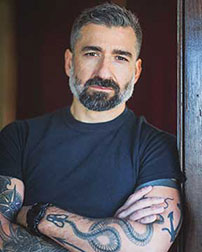 After running away to join the circus at age 15, Fabio A. Tavares da Silva began his career flying as an acrobat in his native Brazil. He moved to New York City in 1999 and has been fortunate enough to have worked and performed with Miguel Gutierrez, Chameckilerner, Yvonne Meier, Jennifer Monson, Luis Lara Malvacias, John Heginbotham, Fischerspooner, Circus Amok, Tony Oursler, Laurie Anderson and Noemie Lafrance amongst others. Fabio also has toured the globe performing as a member of STREB—EXTREME ACTION since 2003, and since 2009 has served as the Artistic Director of the company. Fabio is a Certified Klein Technique™ Teacher, Certified Alexander Technique Teacher, and Certified Zero Balancing Practitioner. He has taught Physical Preparation / Klein Technique™ for actors at PACE University. Fabio maintains a busy private practice as a healer and movement specialist in NYC and abroad.
For more information: www.healthandpoise.com
Fabio Travares: fabio@kleintechnique.com