INSTRUCTORS > DAVIDE CAMPLANI BIOGRAPHY


Davide Camplani
Member Klein Technique™ Teachers Certification Program,
Berlin, Germany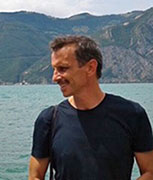 Davide Camplani was born in Marone, Italy. He studied Contemporary Dance with Giulia Gussago and Claudio Gasparotto and at the Folkwang-Hochschule, Essen, Germany, where he graduated in 1999. In 2001 he was certified in Gyrokinesis Level 1.
Since 1999 he has been working with Sasha Waltz & Guests both as a dancer and as repetiteur for Gefaltet by Sasha Waltz & Mark Andre which premiered at the Mozartwoche, Salzburg, Austria, 2012.
He has also worked with choreographers Juan Kruz Diaz de Garaio Esnaola, Luc Dunberry, Giulia Gussago, the Mark Sieczkarek Company, and Malou Airaudo, among many others and in film productions with Gianluca Vallero, Karsten Liske, and Julian Rosefeld.
Since 2008 Davide has been directing the Children´s Dance Company of Sasha Waltz & Guests together with Mata Sakka, Andreas Kern, and Gabriel Galindez Cruz. In 2009 he started working on his own project From …. To under the auspices of Choreographen der Zukunft by Sasha Waltz & Guests. In 2012 he participated in the dance project MusicTanz Carmen as repetitor and coordinator within the education program of the Berliner Philharmoniker where he took part in the choreographic and pedagogic realization of the project directing over 100 children.
As a choreographer, Davide also worked in projects like Lilith Return (2012), Schwestern (2014) with Frank Krug, Irina Schicketanz, and Ketan Bhatti. In 2015 he directed the education-project Open Your Ears at the Konzerthaus Berlin. And in 2016 he started the AMAL PROJECT together with Medhat Aldaabal that premiered in Sophiensaele, Berlin, Germany in June 2017.
Davide Camplani: davide@kleintechnique.com