INSTRUCTORS > ADI SHILDAN BIOGRAPHY


Adi Shildan
Member of the Klein Technique™ Certification Program
Pardes-Hana, Israel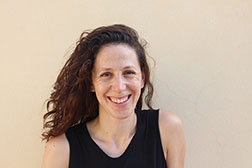 Adi is an Israeli choreographer and performer. She is also a practitioner of the Ilan Lev Therapy Method and a writer about travelling and backpacking for Lametayel website.

She studied dance at the Haifa Annual Workshop for Choreographers and Dancers, at Yasmeen Godder's annual workshop in Jaffa, 'Kelim' program for choreography in Bat-Yam and at the B.Ed. Dance program in The Kibbutzim College of Education in Tel-Aviv in Israel.

Adi started to study Klein Technique™ with Hanna Hegenscheidt in Berlin, Germany in 2016, and since then has been practicing regularly. After participating in a Klein Technique™ Workshop taught by Susan Klein in Tel-Aviv, January 2017, she decided to go deeper into the practice and received a special grant from Mifal Ha'Pais in Israel for an apprenticeship program with Susan Klein. Within this program she joined an Intensive Workshop in Klein Technique™ in Berlin, Germany and shortly thereafter, she was asked to become a member of the Klein Technique™ Teachers' Certificate Program during the June 2017 session of the Teacher Certification Program in Arlequi, Spain.

As a performer, Adi has worked with various artists, in Israel and Berlin, Germany and has presented her own work in different venues in Israel such as Dance Arena Festival in Jerusalem, Bat Yam International Festival of Street Theatre and Art, The Women Festival in Holon, 'Kelim' Center for Dance in Bat-Yam, Inbal Theater in Tel-Aviv, Hateiva Theater in Jaffa, and also presented in Germany at Dance in Response Festival in Hamburg and DOCK11 in Berlin.
For more information: www.adishildan.com
Adi Shildan: adi@kleintechnique.com